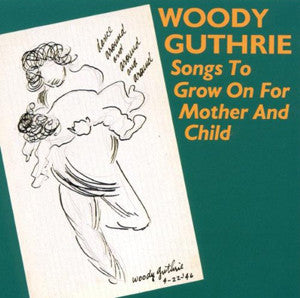 Songs To Grow On For Mother and Child CD - Woody Guthrie
Artist: Woody Guthrie
Album Title: Songs to Grow On For Mother and Child (1992)

---
Recommended ages: 2+ and new parents

"I really did try to slant these songs at all of your citizens from 4 to 6, but I spilled over a little on every side" - Woody Guthrie.
Beautifully remastered vintage recording with vocals, acoustic guitar and rattles.
TRACK LISTING:
1. Grassy Grass Grass (Grow Grow Grow)
2. Swimmy Swim
3. Little Sugar (Little Saka Sugar)
4. Rattle My Rattle
5. I Want My Milk (I Want It Now)
6. 1,2,3,4,5,6,7,8
7. One Day Old
8. Wash-y Wash Wash (Warshy Little Tootsy)
9. I'll Eat You, I'll Drink You
10. Make A Blobble
11. Who's My Pretty Baby (Hey Pretty Baby)
12. I'll Write and I'll Draw
13. Why, Oh Why
14. Pick It Up
15. Pretty and Shiny-O
16. Needle Sing
17. Bling Blang
18. Goodnight Little Arlo (Goodnight Little Darlin')
Smithsonian/Folkways. 1992. CD.
---
---
More from this collection