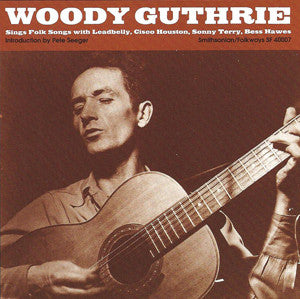 Woody Guthrie Sings Folk Songs CD
Artist: Woody Guthrie & Friends
Woody is joined by Lead Belly, Cisco Houston, Sonny Terry and Bess Hawes, performing songs like, Hard Travelin', The Oregon Trail, and Jackhammer John tell tales of heavy toil, lonely travel, and hard living all across America. With so many other classics like the ballads John Henry and the Rising Sun Blues, this vintage recording is a must for lovers of American folk music.
TRACK LISTING:
1. Hard Travelin'
2. What Did the Deep Sea Say?
3. The Rising Sun Blues
4. Nine Hundred Miles (instrumental)
5. John Henry
6. Oregon Trail
7. We Shall Be Free
8. Dirty Overhalls
9. Jackhammer Blues
10. Springfield Mountain
11. Brown Eyes
12. The Boll Weevil
13. Guitar Blues (instrumental)
14. Will You Miss Me?
Smithsonian / Folkways. 1992. CD.
---
---
More from this collection