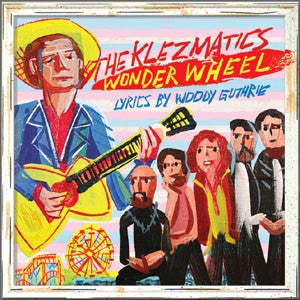 Wonder Wheel CD - 2007 GRAMMY Award Winner!
Artist: The Klezmatics
*2007 GRAMMY Award Winner for Best Contemporary World Music Album of the Year

"Woody Guthrie wrote over 3000 lyrics in his lifetime, most of which he never recorded. The Klezmatics offer up 12 of these previously unknown songs, creating a wonderous wheel of new music that places them in today's musical soundtrack. Just as he would have wanted it." - Nora Guthrie
Wonder Wheel is a lively dialogue between artists who fervently agree about social justice, peace, and the spiritual power of music to unite, bind to a cause, and transcend any borders, musical or otherwise. The story is a glorious tale of happenstance and discovery, populated by luminaries from different worlds and different eras. These Coney Island-wrought lyrics add a less-known urban dimension to a man seen as the avatar of dust- bowl ballads. But, like thousands of his songs, they were left unrecorded, their music forgotten.
TRACK LISTING:
1. Come When I Call You
2. Mermaid's Avenue
3. Headdy Down
4. Gonna Get Through This World
5. Pass Away
6. Holy Ground
7. Goin' Away To Sea
8. From Here On In
9. Wheel Of Life
10. Condorbird
11. Orange Blossom Ring
12. Heaven
Jewish Music Group. 2006. CD.
---
---
More from this collection